Cho Ku Rei
Sculpted by R. Neville Johnston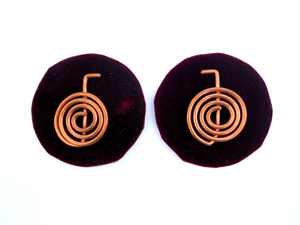 One of the oldest symbols in the known universe, it is an interdimensional energy device. This delightful symbol/object is known to the practitioners of Seichim and Reiki as a Cho-Ku-Rei and it is held with reverence.
As a Sacred Geometry, it act like an aerial. It accesses other dimensions by virtue of the portal created by the right angle. When it is in the necklace form this is where the colored cord is attached. Energy travels up and down the central shaft. The spiral acts to radiate chi into our world and at the same time collect less effective emissions and transmutes them. Thus any "negativity" directed at one can more easily become one's personal power.
Transducing this extra dimensional potential into a usable waveform, it delivers a wonderful and healing field directly into the heart. Hand held it could be used in any healing practice. While at the computer it will "protect" the computerist from burn out.
The Cho-Ku-Rei is always switched on and will continue infinitely, as long as the copper remains in this form. One may occasionally clean and polish it. Detach the string and a simple Brillo will do it.
When placed in a group of three a much wider field of potential opens. In Seichim this configuration is third level and is equated with the power chakra. Traditionally a specific program is installed and manifestation is amplified.
Amplified Cho ku Rei
The Amplified Cho ku Rei is an energetic step up. These powerful devices contain all the ability and resources of the Cho ku Rei, but they are super charged with solid metal spheres at the ends of the right angles. These spheres amp up the energy moving through the device and can be perceived to 'arc' from one to another. By holding one in each hand, your natural energy circuit raises in vibration, thereby assisting you to manifest, to release and to heal old energy patterns. These sacred tools can be used in your own development and healing, as well in your healing practice.
These are available in solid Copper, solid Silver and Gold Plated Steel. The copper is 4 ¼" tall and the Silver and Gold are 3 1/4" tall.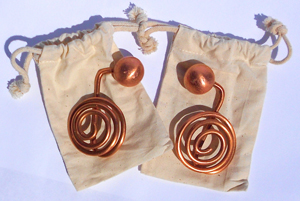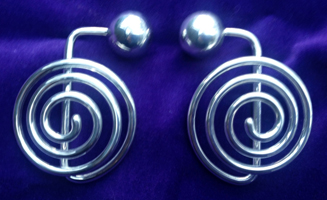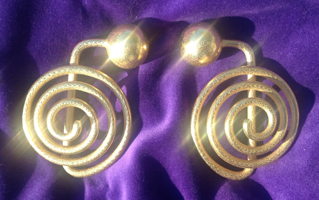 Cho-Ku-Rei Necklace
by R. Neville Johnston
The Cho-Ku-Rei is a sacred object. It is a healing symbol and a powerful interdimensional transducer and zero point energy device. This ancient and dynamic geometry acts like an aerial and accesses other dimensions through the portal created by the right angle. Energy travels up and down the central shaft and the spiral acts to radiate chi into the world and at the same time collects less effective emissions and undesirable EMF's and transmutes them.
Being made of solid copper, it interacts with the auric field, balancing and restoring the wearer's energy. Since it reinforces, empowers and uplifts, it is a great tool to help one to have a more beneficial response to stress. It aids greatly in the maintaining of higher consciousness and enhances the benefits of meditation. The nature of this construction never requires charging and is switched on all the time.
Worn over the heart, it will make it easier to recognize love in all things. Held over the third eye, or to the temple, it will allow you to see what is really going on in any situation.
© R. Neville Johnston, 2000 – 2013