Inner Wisdom Cards
by Mary Phelan
I invite you to enjoy an online reading anytime you would like with this deck. It is based on my realizations about life in general and my life in particular. Prior to drawing the cards in this deck, I had never considered myself an artist. I used a very old version of an art program to draw these and it had a square block cursor (that is why they have a bit of a blocky feel to the curves). At first, these were used for an online program for my website visitors, but after a number of requests for a print copy, I decided to print them (there are a few extra cards in the printed deck).
No deck of cards can possibly know more about you than you do, so I have designed these to guide you to your own inner knowing.
Inspirational Card of the Day
Choose a card a day, either in the morning for inspiration, or in the evening for understanding about your day. You may also think of an area of your life or a question and then click on the card below to see your reading. Keep a journal so that you can see when certain cards may be appearing more than others. See what the bigger message is! Your reading appears below the card.
Inner Wisdom Cards
$20 + $3 (shipping in US)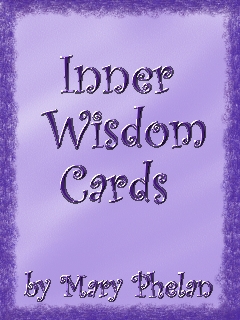 Inner Wisdom Card of the Day
---
Your Reading:

Brilliance – Brilliance is all around you, all you have to do is have the eyes to see it. Brilliance is inside of you too, can you feel it? Have you been hiding yourself, afraid others will judge you? Look at all the wonderful things you have created in your life. Look at your magnificence, your focused, bright colors. There is no one else like you, you are a unique perspective of the All, let your light shine on the world, share your gifts and talents. Situations and projects you have been focusing on are turning out great, just believe in yourself and your brilliance!


Dreams – Pay attention to your dreams, much information is coming through them, providing insight into things that are going on in your life. Look for their symbolism in the wake time also (i.e. dreaming of an eagle and the company you get an interview with has an eagle as their logo). This card also reminds you to see if there is a dream that you are putting on the back burner. It's time to bring it to the front!


Flow – Flow is a balance, it's not a construct of the mind. Flow is living with your hands open, neither holding onto, nor pushing away. It is not about measurement, it is a balance point where you feel good. If you hold onto more than serves you, you get trapped in stagnation. If you release more than what truly resonates, you feel drained and tired. Even when it feels like things are happening outside your control, follow the flow to where the stream starts and step into the knowing that you are designing it all. Relax and let it flow


Silence – Everyone has a sphere of silence that surrounds them. Silence is the portal that takes you into yourself and through this, into the Universe. It is the place that transmutes anything that comes through it so that when it gets to you, the true message is revealed. Sometimes stress and fear can diminish consciousness of this silence. Connect with it again, feed it with your attention. Use this silence as your haven, your place of rest, understanding and insight. This card also reminds you to get away, visit the beach or a lake or go on a silent retreat.


Clarity – All situations stick around until they are seen and understood. The last piece of any puzzle, the last page of any book, brings with it the understanding of the picture, of the story. If we are blocking the understanding, confusion can freeze us until we get it. Are you blocking clarity in some area of your life for fear that you may have to let go of something? Don't worry, nothing leaves before its time. If it is to be released, then it is the right time. It is safe to invite Clarity into your life, it is a loving and supportive friend that is on your side unconditionally.


Go Deeper – So often we give up right as we reach the prize, the wisdom. Some of the things that stop us are fear, doubt, worry and guilt. These things seem like sharks keeping us from our treasures, but they are really just little fish that will dart away with our bold action. Go for it. Go deeper. Explore the depths of your being and you will discover treasures you never even dreamed of! This situation is calling out for a closer look. See past appearances and to the heart of the matter. There is nothing to fear, there exists at the heart of every matter, nothing but pure LOVE.


New Love – Lots of wonderful new energy coming into your life! Welcome it, embrace it, you deserve it. This is a good time to clear up any issues of deserve-ability so that you won't shut the love out as it arrives. This time brings in new friends, your spiritual family, new romances or a deepening of ones already in your life, but most importantly, your relationship with YOU. No other relationship will work until you focus on this journey of self-love and discovery. The people that come into our lives are like travel companions as we walk this road. This is a great time to be your true self and to climb out of the molds you have cast yourself in and blossom!


Simplicity – God makes things simple, man makes things complicated. Man likes to have his puzzles. But remember, all puzzles, all complexities are a construct of the mind. When things seem really complicated and confusing, take a step back and simplify. This is a good time take things off your list, to clear things out of your closets (the personality), from under your bed (subconscious programming) and out of the attic (habitual thoughts in your head). If you are carrying too many suitcases, set some down. Don't make more of things that are on your mind, make less of them.


Divine Guidance – Don't worry about how you are going to get there, or even where there' is, because the road writes itself every time you take a step. You cannot be lost, stranded with no map, your Higher Self, your inner guidance system (IN Star) is always leaving you clues about yourself and your path. Don't think too much, relax and watch for the signposts that come to point you in the direction that is right for you, they are all around you


Divine Timing – All things happen in Divine Timing and according to your higher decisions. It does not matter if you are aware of making these decisions or not, all things are unfolding in alignment with what you have chosen for yourself. And these choices are made from pure love and for your experience and growth. Rather than saying why isn't this here yet, ask yourself, what do I still have to get from this current situation? Trust and say everyday, My timing is always perfect.


Warm Bath – There are some things in life that are best handled by taking a warm bath. Letting the warmth surround you, pulling you into the moment with a nurturing embrace. Take a bath of release. Put in some Epsom salts or your favorite oils, light a candle, turn on some lovely music and sink into the here and now. Let the water wash the hurts away and bring clarity to the situation. Make a special time every night for this


Change – True change is something you look back on as having had happened. It is not something you force or agonize over. You let it move effortlessly through your life. If you resist change, your Angels will come disguised as the fire that burns what is held onto out of your grasp. If you are okay with it, this fire will really be your Angels carrying you to your next place. Change is your friend. Change is always movement forward no matter what it looks like, don't resist, center yourself within it and claim your power. Time to make those changes, you are ready.


Awakening – The dawn of a new day, a new beginning. When you look back at how you saw the world when you were ten, you can see how much wisdom has come to you in the time between. All the experiences that brought this new understanding came and went, but the knowing remains, it has become a part of you. You are always in a state of awakening, always in the midst of great experiences that are taking you to the summits of great mountains of wisdom. Start viewing your life with this knowing, stop judging the experiences that have brought you so much growth. Remember to have the eyes to see the divinity in your life and your choices. Wake up to the fact that you are having great realizations right now. Open up to new people, books, workshops and media that are bringing you great ah-ha's'


Higher View – There is a time to look through a microscope and times to look through a telescope. Don't identify with either, they are just tools that you use. Loosen any attachments to the details right now and don't get caught up in the Justice Trap. If you get trapped in the world of right and wrong, you miss the scenery! Look at any situations in your life that are bogging you down from a higher perspective. Is it really that important? What attachments can you release so that you can see the bigger picture?


Inspiration – There are those moments that can come in the quiet of the night or on a bus in the middle of the day, these moments where you are caught up in a current of ideas and creative flow. The inspiration may be from the way the tree looks sillouetted against the sky, it may come from the sound of a child's laughter, but wherever it comes from, ride the wave. Inspiration is the moment when spirit and flesh are in a wonderful dance of cognition of the other. It is a time when time stands still, and when you submerge yourself within it, you understand what infinity is, this connection. Even if you are feeling stuck right now, without direction or passion, begin to watch for something everyday that inspires you.


Messages from Spirit – Your loved ones in Spirit are sending their love and letting you know that they are still around and aware of things going on in your life. They are proud of you and your growth and lend their support and want you to know that they are happy and surrounded by love and light. Your Spirit Guides are also contacting you to let you know that you are never alone, there is always love and guidance around you, even on the darkest nights. Reach out for this contact that surrounds you and you will become more and more aware of it. Communication can come through inner knowing, books, dreams, license plates, signs, feathers, 11:11 on the clock and many other ways. Pay attention! Drawing this card can also speak of receiving news via email, mail or by phone.


Erasing Personal History – In order to be in a constant state of Being, the Spiritual Warrior erases personal history. If we carry around what we were yesterday, we cannot become who we are today. Are you holding yourself in the shell of who you used to be for fear of change? Are others keeping you cast in stagnant roles in the story of their lives? From the perspective of this moment, ask yourself who you are RIGHT NOW, let go of who you were or who you think you should' be. If you just found yourself aware in this moment with no reference to the past, what decisions and choices would you be making? How does your heart feel about the things going on in your life right now from this place of being the You that is right here, right now?


Solitude – Solitude is not lonely, it is the doorway to becoming one with everything. If you do not allow time in your life to be alone, this doorway to everything' can fade from your awareness and your inner world begins to look like the outer one, filled with noise. It is time to embark on your journey through the desert, the night of the soul where you walk the inner recesses of your spirit and discover the part of you that has been buried beneath your identity. Reveal you true self, there is nothing to fear, its warm embrace longs to share the wisdom it has gotten throughout the ages. Let your light out, let it light shine upon the world.


Strength – True strength is not about how much weight you can bench press, it is about how much of your vastness that you are aware of. Strength is really a state of mind, a state of knowing. Your strength is in direct proportion to your self awareness and love. Instead of running from things that you feel are bigger than you, stand firm and know that you are indeed strong enough to be vulnerable. And it is in that knowing that you become bigger than any fear, any thing that would make you feel less or exposed. Claim your power, don't let the illusion of your limitations write stories in your life. This is a time to make your stand. Do this internally, overcome limiting thoughts and the outside will magically right itself.


Gratitude – Gratitude is Joy. The reason we feel happy when we get something we want is because this happiness (gratitude) feels so good! It is not the new car that is making you feel good, it is the gratitude for the car that is blissful! And guess what? The Universe LOVES you to feel this way! So if the things you seek do not bring gratitude, then the Universe will stop sending them, thinking they do not please you. Gratitude is a state of mind, not a pleasantry you exchange. Love what you have and you will have what you love!.


Family – Your family are the people you have chosen to incarnate with in order to experience the things you came here to experience. They are the first people outside of yourself that you become aware of and many of your deepest knowings come through your relationships with them. Thank and honor them and yourself for this and remember that all the people in your life are there for a reason, including your spiritual family, the people that you invite in to spark your mutual spiritual awakenings. There are no mistakes, people come into our lives and leave from it for very specific reasons. This is a time of a deepening of the bonds you have as you move to the cosmic awareness that the whole world is your family. Open up to this, drop any resistance and see the wealth of love and wisdom all around you.


Communication – Your voice is divine, your self-expression is divine. Are there things you have not spoken figuring that no one will listen? People will search the world for someone to really hear them, and all along, the ear they sought was their own. Listen to yourself right now like a kind and patient counselor would hear your feelings and validate them. Open up to saying the things you have always wished to say. Make that call. Write that email. Start a journal. Now is the time to get in touch and commune with others. Bring back those long talks on hot summer nights. Share your story.


Letting Go – Sometimes it seems like we're supposed to hold on tight so things won't slip away. But we cannot make the flower grow to suit us, we have to let it unfold in its own natural way. Holding on is hard work and it drains you and the thing/person you cling to. It is safe to move on and to allow old ideas and circumstances to move on too. There are so many wonderful things coming, make room for them! Open your hand and let the Universe land in your palm. Place your attention on the faces of those that are walking toward you!


Balance -– It may seem like you are seeking equality, a balance of responsibility or fairness of some kind, but all these things are just vehicles that take you to your real destination, and that is Peace. You don't have to have events line up just right in order to feel this peace, you can step directly into it. Don't get caught up in the ping-pong match between good and bad, don't get lost in the cave of measurement. Relax and know that the peace you seek is right here, right now and you can embrace it at anytime.


Flexibility – It may look like being powerful is being rigid and not letting anything push you over, but true power is flexible. When you get too vested in something happening in a specific way, you are actually giving life force to your fear of it not happening. Open up to new ways for your decisions to manifest. Flexibility brings with it many new experiences, ones that you would never have had if you had stayed in a closed system. Bend with the breeze, allow yourself to not be attached to any outcomes, just enjoy the ride and see what new adventures await you!


Boundaries – Boundaries are not fixed walls, they are flexible points of choice. These points of choice are where we make decisions about our level of interaction with others. When we have guilt about saying no, it is like leaving the gate wide open and others just walk right in as if we never said no. Remember your power, you don't have to fight, you just have let go of any guilt about your choice. Who is stepping over your boundaries, invading your inner space right now? What guilt is holding you back from claiming your power of choice? Just radiate your knowing that it serves not only you, but the whole world when you decide to have your boundaries.


Claim your Power – We are all unique and have different things to offer and to experience while here on Earth. We are defined by our preferences and when we really know who we are, we will honor our preferences and live a life of power. Sometimes it may seem that there are other people and situations that have power over you but this is an illusion. You are the only one that has power in your life and your power is loving and is on your side 100%. Next time you are feeling walked on by your boss or when you feel your significant other isn't respecting what you have to say, step back and say, I claim my power! Feel your crown on your head and know that you are never powerless and the evidence of this is all around you. Find your power in the situation. What would you do about it if you believe in yourself?


Truth – We grow up training ourselves to fill a role, father, mother, boss, employee, singer, dancer, good girl, etc. But there comes that time when we tire of carrying around the weight of all those cloaks we've amassed. How many different personalities are you lugging around? It is time to set these down and begin to live your truth. Discover the real you, the one that exists outside of the job description and the place you hold within the family. Get to know yourself. See what you are doing because it is in the job description of the role you are playing and what you are doing out of love. Awaken yourself to the things you love and begin living it.!


Personal Best – When engaging in competition with others you are setting yourself up to be a winner or a loser. This causes you to live in measurement and when you are in measurement, you are not experiencing and when you are not experiencing, you are unhappy. And if there is happiness, the measuring mind is busy gauging the odds of losing it. You can't be better or worse than anyone else because we are all individuals. Where are you playing the game of competition in your life? Free yourself. Don't compare yourself to anyone else, see that every race you run is with yourself. Life is a glorious game, don't get caught up in how fast the person beside you is running, enjoy the course you have set for yourself!


Healing – Healing is a natural force that holds together and is stronger than the force that separates. Don't get caught up in the illusion that only time' can heal wounds, healing is instantaneous. Believe in the instant cure! Miracles do happen all the time. Call your healing to you and allow the love to flow again throughout your life and in this situation. Hear what your body, mind, heart and spirit are saying to you. You have talent as a healer, open up to this!


Commitment – Commitment means being there 100% in whatever you are committed to, while you are committed to it. It is not about making decisions for tomorrow, it is about making conscious decisions about what you call into your life today and then supporting these decisions wherever they lead. When you are committed to yourself, you will no longer feel unsupported and unloved because you are the only one that can let you down or betray you, all other external events are just mirrors of this inner lack of commitment. Take this as a sign to commit to yourself. Your love and approval are the love and approval you seek. After all, you are the only person that will be with you through all your lifetimes. Make that commitment, write your marriage vows to yourself and promise to accept yourself unconditionally.


Friendship – There are certain things that you can only share with a friend. Friendship is an essential avenue of expression and communication. Make a play date' with some friends to have some carefree, open exchange! Open up your life to new friends and call some old ones. Friends are a garden that is watered with love and attention. Is there someone you haven't had the time to call in a while? Have you been busy running from here to there and haven't taken some relaxation time? This is the sign that it is time.


Knowledge – It may seem that since you are out of school and have your degree, that you have learned all that you came here to learn. But just like the food you ate when you were ten won't be there to nourish you today, your consciousness must have new things to explore. There is a lot of new information coming to you right now and it may be in books, movies, classes or just straight from the Universe in the form of knowing. But no matter how it comes, make time to explore your reality and the world around you. What you discover in the macrocosm will assist you to understand the microcosm within you. Share your knowledge with others.


Opening the Door – There is no such thing as boredom. There are doors within you that you have never opened! Perhaps you were afraid or you didn't have time. Either way, the message of this card is clear, it is the time for some self-exploration. You have skills and talents you didn't even know you had. Open the doors! This card is telling you to look at situations that make you feel overwhelmed or inadequate and look at them again from the knowing that you have all you require to handle this and not only to handle it, but to master it. Your spiritual gifts are becoming clear to you now, trust them. You've been led to the door, it is your choice to go through it.


Joy – Being joyous is your natural state. Joy happens in the moment, it is not something you plan for or can force. We are either experiencing or measuring. When we experience we are moving and flowing in the moment. When we are measuring, we are not in the moment and not in our joy. Joy is a state of Being, not a state of doing. Bring the joy back into your day, take a picnic lunch to work, put a love note in your partner's pocket or call some friends over for a tea party. Let the joyous inner child become the joyous outer you!


Fertile Ground – There is a season for planting and a season for resting the ground. You are entering a phase of great growth and abundance. Opportunities are breaking though the ground and will be ripe for the picking. Have fun sharing it! Conditions are right, the time is right. Take the step. Within you lies untold buried treasures. Don't hesitate to go in and explore!


Grace – Grace is the stillness that exists between the push and pull, between resistance and acquiescence. Grace doesn't fight, nor does it give in. Grace allows. Between every polarity, there is a calm point of grace, and this point exists within you. When people and circumstances are swinging wildly from pole to pole, find your Grace and stand in its quiet power.


Trust – Most people do not know what trust really is. Trust is not forcing yourself to trust someone even though they have done something that your heart is telling you is not trustworthy. All this does is to pit you against your inner knowing. What serves you much better is to trust these other people to be true to their own nature and then to ask what that nature really is. When you do this, inner (and outer) harmony follows, self trust is restored. This is a good time to remind yourself that you live in a safe Universe and that all you have to know is always right there in front of you, trust yourself to see it.


Receiving – We are taught that to be productive we have to be out there reaching and acquiring, otherwise we are lazy and nothing will come to us. Allowing, being receptive is not something that can be taught because it is not a doing, there is no procedure to teach. Receiving is a state of allowance. Nothing can come to you if you are not open to receive. Sit with your palms up and let the Universe know that you are ready to receive all the wonderful things it would like to bring to you!


New Direction – There is a fork in the road and you may be feeling that you cannot see where the paths lead. How do you make up your mind? First realize that there is no wrong path and that no matter which path you select, and no matter how much indecisiveness you have, it will be the right path for you right now. Don't get pulled back to the road you didn't take and make comparisons, stay focused on where you are and all of the opportunities that you would have had on that other road will appear in front of you. Whatever your decision right now, let go of the other one and enjoy the path you did take! New directions are coming at work and in your life.


Romance – Romance is not a person or something that happens between people, it is a loving way you relate to yourself. Pull romance into your life by being loving, kind and gentle with you! Make time for a romantic walk, a romantic dinner, learn to create these feelings of love within yourself and then share this with your partner. Make romantic plans every week, explore your creativity and take the first step in bringing your relationship to a new level. Despite some news to the contrary, romance is alive and well on planet Earth!


The Mirror – Your life is a reflection of your inner world. If it looks like something is happening outside of you, it is really going on inside. Your relationships mirror back to you how you are relating to yourself, your limitations are mirroring back your limiting beliefs. You can look into the mirror at yourself and scream at the hand that is poking you to stop, but the mirror is just a reflection and only shows you what you are doing right now. Everything in your life is just mirroring back your self image and world view. Don't like something? Then change the reflection. Remember, if you are loving and supportive of yourself, then the Universe reflects this back!


Meditation – Meditation is the bridge between the worlds and being on these bridges reminds us of who we really are, pure consciousness that knows no bounds. When you don't allow for meditation time, stress and anxiety attempt to push you toward it by making this reality too intense. Take time for meditation everyday, whether it is standing in line at the grocery store, at lunch, on the metro, it doesn't matter, you can do it anywhere. Build a labyrinth in your back yard or have a picture of one on your desk. It is a wonderful way to expand space and go deeply into yourself. It is safe to step away from the worry and stress and find your calm center, after all, it is calling to you.


The High Road – Situations in life may seem to be pulling you into conflict and confrontations, but remember your power. Just because someone invites you to play a lower frequency game, you don't have to accept. Surround yourself with a zone of truth that transmutes anything that comes into your field. See what the world is really saying to you and don't take things others say and do personally. Take the high road, see what is really going on, there is a great view from there!


Wisdom – Wisdom comes to us quietly and profoundly. It is not on the diploma, or in the promotion or even in the raise. Wisdom is the knowing we are left with after the experience. It becomes us and we become it, wisdom is love in action and love in inaction. Wisdom is our vaster self, coming to join us here. Don't look back over your life with regrets or judgments, look at your life as a wonderfully powerful horse that wisdom came riding to you on. Don't judge your experiences, they always bring you wisdom.


New Horizons – There is much to explore in this world and you are being called to travel and see new places and faces. Take a weekend road trip or travel to foreign lands and stretch your wings. This is a time of movement and experiencing new things. Go on a job interview or try a new restaurant, just for the experience. There are new opportunities just around the corner, embrace them!


Mystical Experiences – There is so much more to your reality than is seen with your physical eyes. There exists within you an endless Universe to explore and discover. Become the mystic, travel inside and see the wonderful scenery and depth that is you. Pay attention to your instincts and intuition, allow your extra sensory perceptions to come to your conscious mind. Nurture your clairvoyance, telepathy, psychometry and clairaudient abilities by trusting them. You are being called to embark on your mystic journey, take the step.